Donate
We depend on donations like yours to allow us to continue to support all of those in Cornwall and the Isles of Scilly with sight loss. There are several ways in which you can donate to us including online, over the telephone or by post.
How your donation helps:
£50 provides one person with a one-to-one assistive technology assessment that could change how they live their life.
£100 provides home visits for two people to get the support and advice they need.
£250 supports three people to get their benefit entitlements, helping them overcome financial difficulty.
Online
The simplest way to donate online is via our Just Giving or PayPal Donations page.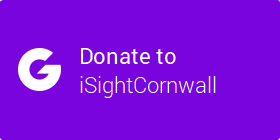 Over the telephone
If you would like to make a donation over the telephone, please call us on 01872 261110 with your credit or debit card details.
Send us a cheque
All cheques must be made payable to 'iSightCornwall' and posted, along with our Paying In Form, to our Sight Centre Offices in Truro:
iSightCornwall, The Sight Centre, Newham Road, Truro, Cornwall, TR1 2DP
Paying with cash
If you are in the Truro area please feel free to pop into the Sight Centre with your cash donation. It is not safe to send cash, particularly coins, in the post. If you are unable to visit the Sight Centre, please make your donation over the telephone or by sending us a cheque.
Sign up for Amazon Smile
Amazon donates 0.5% of the net purchase price of eligible purchases to the charitable organisation of your choice at no extra cost to you. To sign up and select iSightCornwall as your chosen charity please follow the link below.
Sign up for Give As You Live
Give as you Live is a free and easy way to raise money for us, by shopping online at your favourite shops.